Welcome to The Vassalord Wiki
The wiki about everything Vassalord that
anyone can edit
. We are current working on
Featured Article
Edit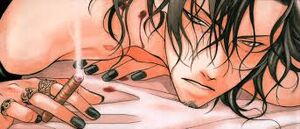 Johnny Rayflo is a Vampire and one of the main characters of Vassalord. A playboy with plenty of money to his name, he is often at odds with his vassal, Charles J. Chrishunds and keeping an eye out for, Barry, a demon hunting him for fun.
The Vassalord Wiki deals with anything everything Vassalord related. On this wikia, information about characters and media will be available as well as images from the manga and show.
Be king and assume good faith.
Do not vandalize the articles.
To not back-seat moderate.
If a disagreement is taking place, do not edit war. Bring it up with an Admin or on the talk page of the article in question.
Source all information that isn't general knowledge.
---
Ad blocker interference detected!
Wikia is a free-to-use site that makes money from advertising. We have a modified experience for viewers using ad blockers

Wikia is not accessible if you've made further modifications. Remove the custom ad blocker rule(s) and the page will load as expected.